Want to learn more about how and why joining a tech scaleup can turbo-charge your career? Earlywork and harrison.ai have you covered.
Too many people overcomplicate starting their career in tech 👇
Is now a good time to be in tech with all the layoffs?
How do I assess the right job opportunity?
Are there any roles that suit my experience?
In reality, venture capital funding is still at record highs and there's one type of hidden company that few know enough about.
The answer?
⭐ Scaleups ⭐
Want to learn more about them?
Join us for an in-person panel discussion at harrison.ai's beautiful office on April 27th.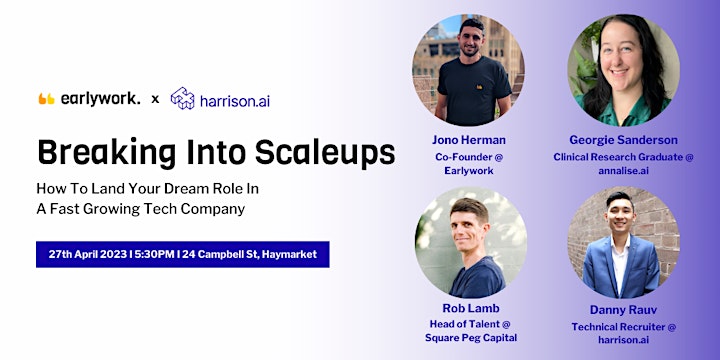 You'll learn practical tips on how to put your best foot forward to ultimately land your dream job at any scale-up – plus we'll give the inside scoop on why you should consider joining a scale-up as your next career move (if you haven't already!).
You'll also walk away with deeper understanding of:
✨ What's it actually like working in a scaleup (is it the right move for you?) and what roles may suit best
🚀 How to make your application stand out amongst the crowd, including CV and interview tips
👀 Advice on building your networks and why it's important to invest in your personal brand today
On the night, our panel discussion host (Jono Herman, Co-Founder @ Earlywork) will be joined by three amazing speakers:
💙 Rob Lamb, Head of Talent @ Square Peg
💙 Danny Rauv, Technical Recruiter @ harrison.ai
💙 Georgie Sanderson, Clinical Research Graduate @ annalise.ai
Timing details:
5:30 – 6:00 PM: Welcome & drinks
6:00 – 6:45 PM: Panel discussion
6:45 – 7:00 PM: Audience Q&A to panel
7:00 – 9:00 PM: Drinks, chit-chat & pizza! ✨
Huge thanks to our generous partner harrison.ai and joint ventures (annalise.ai and franklin.ai) for sponsoring food & drinks on the night.
Make sure you RSVP to save your spot – limited seats 🔥
🎉 We're super excited to see you soon!
Cheers,
Pam Stevenson (Head of Talent @ harrison.ai) & Jono Herman (Co-Founder @ Earlywork)