Children's Book Launch | Curious Cassie's beach ride quest: A Celebration of Isaac Newton's Discoveries
Join us for this free event launching the debut children's book written by Harrison.ai Head of AI Engineering Suneeta Mall & illustrated by Jaya Jha.
When: Thursday 2nd March, 5pm – 7pm
Where: Harrison.ai HQ, Podium Level, 24 Campbell Street, Haymarket 2000
The event will feature:
Book reading by the author
Children's activities
Book signing by author & illustrator
Insights from Suneeta Mall and her learnings as a first-time author
Refreshments
Curious Cassie Book Series
Do you know any 6-10-year-old kids who love reading chapter books?
Did you wonder why there aren't enough early reader chapter books drawing inspiration from the greatest scientists of the past to inspire scientists of the future?
Are you concerned that kids are losing themselves in the one-way interaction devices & losing the art of being curious?
As mothers of young kids, Jaya Jha and Suneeta Mall asked themselves similar questions and embarked on their "mum's projects" – writing a series of "Curious Cassie" books.
Curious Cassie is a set of early reader books telling fascinating tales about the discoveries of our scientists to spark curiosity and courage to pursue the quests. Every book in this series is devoted to a scientist whose discoveries are canvassed through fun and engaging conversations led by Cassie and her family.
The discoveries led by the scientists of our past and present continue to inspire us. These folks are curious and passionate about their pursuit. They are also fearless in asking questions. In fact, Albert Einstein, one of the great scientists of all time, once said, "I have no special talent, I am only passionately curious".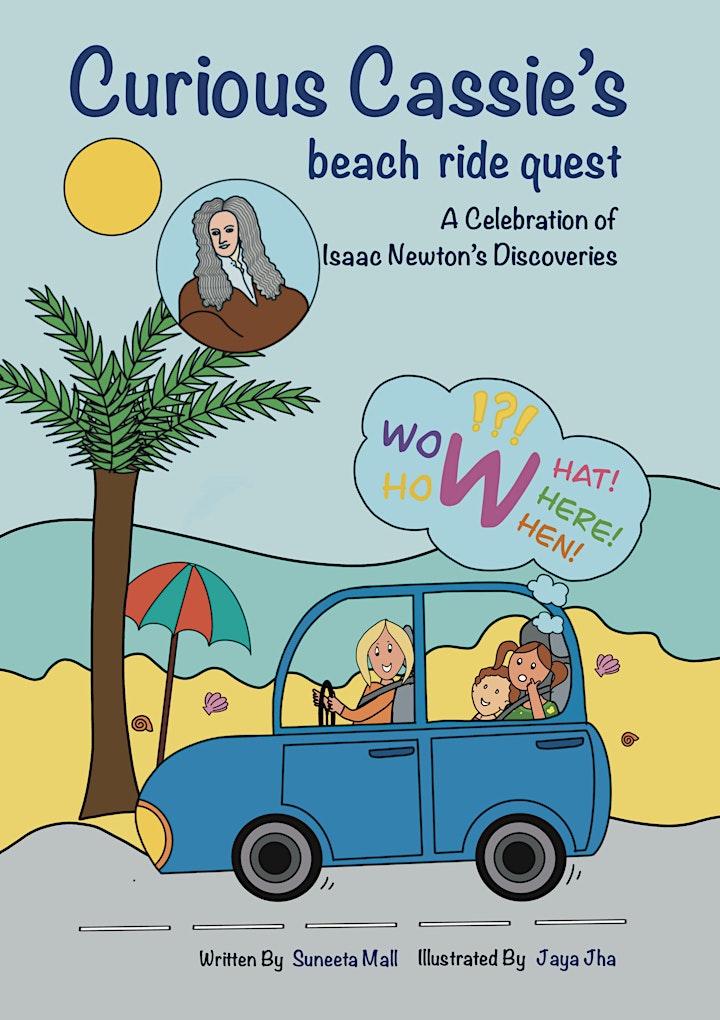 What's in this book
In this debut book, Curious Cassie's beach ride quest, we will celebrate the discoveries of Sir Isaac Newton's.
A curious and engaging conversation between Cassie, Caleb, and their mum as they head to the beach and encounter various circumstances touching upon the phenomena of motion and gravity and are left inspired by Sir Isaac Newton.
For more information on this book and the series, please check out https://curiouscassie.github.io/
Meet the author
Suneeta, Head of AI Engineering at Harrison.ai, is a mum to two little people and is passionate about learning and knowledge sharing.
Suneeta feels the need for early reader chapter books that sparks curiosity in the kids and encourages them to ask questions and follow through with their quest. That's why she started the Curious Cassie project to inspire kids with great scientists and philosophers of all times.
Academically, Suneeta holds a PhD in applied science from the University of Sydney. She is passionate about solving real-world problems with engineering, data, science, and machine learning.
Meet the illustrator
Jaya is a software developer and a mother of seven-year-old twins. She finds joy in answering the curious questions posed by children, which offers a fresh perspective and inspires her to think creatively and explore new things.
In her free time, she draws and paints, often creating Mithila Paintings. With this book, she aims to showcase that anyone can draw by keeping the designs simple and conveying the message that art is accessible to all.
Grab your tickets now to this fun, family-friendly event in Sydney!